EssayMama.com – Mama Knows Best When It Comes To Essay Writing!
Does an essay assignment have you singing the blues?
Are you banging your head against the wall out of sheer frustration?
Stop, you're going to hurt yourself. And before you throw your computer across the room, read this:
EssayMama.com is here to save the day with our world famous essay writing services!
Listen, essay writing is hard work. You know it, we know it. And you're busy as all get out. You have other classes and other assignments to manage. Not to mention work and a little thing called having a life. The last thing you have time to do is struggle to write thousands of words on a topic you don't know all that much about or that you maybe really even don't care about (don't worry, your secret is safe with us!). Let EssayMama.com handle all of your essay writing needs.
Mama Makes Everything Easy
Instead of burning that essay assignment up in a fit of rage, all you have to do is hand it over to EssayMama.com. Here's how it works.
ORDER NOW
CHECK PRICES
Send us your assignment—
Remember when you were a kid and you would come home from school and hand your mom your homework folder with all of your assignments so she could help you? Well, it's kind of like that. Just send us the details of your essay assignment and any resources or special instructions you might have.


Our expert writers will get the job done—Like any good mom, EssayMama.com wants only the best for her loved ones. That's why we hire only the most elite writers in the business. Our essay writing team includes subject matter experts from every field with PhD and Master's degrees. You can rest easy knowing a true professional will be carefully crafting your essay to help you get the best possible grade.


We'll deliver your paper on time—We're never late! Just tell us your deadline and we'll make sure your essay gets written and in your hands on time. That's our promise to you!




Taking Care Of You Every Step Of The Way
Unlike other essay writing service providers, EssayMama.com takes customer service very seriously. We're here to take good care of you at all times. Our 24/7 customer support team is here day and night to help you in any way we can. We are always available to answer your questions and provide you with friendly, helpful one-on-one service. Your satisfaction is always our top priority!

Mama Helps You Save!
We don't want you to spend all of your money on essays. You're a student, and you need money to eat and to have a little fun, too. That's why we offer some of the best deals on professional, custom-written essays. Our prices are very reasonable, and we offer a number of discount options to help you save even more on your order. Don't forget – our essay writing services are backed by a satisfaction guarantee, so you have nothing to lose!
EssayMama.com Does It All
You can count on a great mom to help you with anything. The same goes for EssayMama.com. Our essay writing service includes all types of academic writing. We can help you with your essay, research paper, thesis paper, and any other writing assignments you might have. No matter what the subject or level of difficulty, EssayMama.com has you covered!

Get Help Today
It's time to stop stressing out about your essays. Help is here. All you have to do is ask Mama for help! Click here to get help with your essays now!



ORDER NOW CHECK PRICES
OUR SERVICES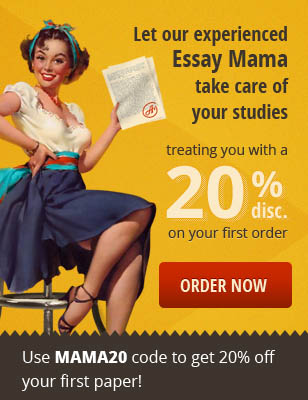 FOLLOW US ON
WHY CHOOSE US
100% unique custom academic papers written to your exact details.
Direct communication with your personal writer via our messaging system at any time.
Non-stop customer support department with representative ready to address all your issues.
Only secure payment processing procedures.
Top-notch high quality papers written within the deadline at reasonable prices.
Discount options that will certainly help you save money
Your satisfaction and total confidentiality are our iron-clad guarantees!
OUR DISCOUNTS
15+ pages

5%

OFF
51+ pages

10%

OFF
101+ pages

15%

OFF
TESTIMONIALS
This service has surpassed my expectations! I was stuck with an essay on politics and made up my mind to give it a try and order from these guys. Suffice it to say I got my essay written before the deadline! Quality is definitely worth the price and I'm totally satisfied with the results.

Wendy J.

There's no better service than essaymama.com! Maybe I sound like a marketing guy now but I'm simply a happy student – I got an A for my essay! I needed to catch up with my studies and opted for this new service – never to regret. Superb job! Cheers!

James L.